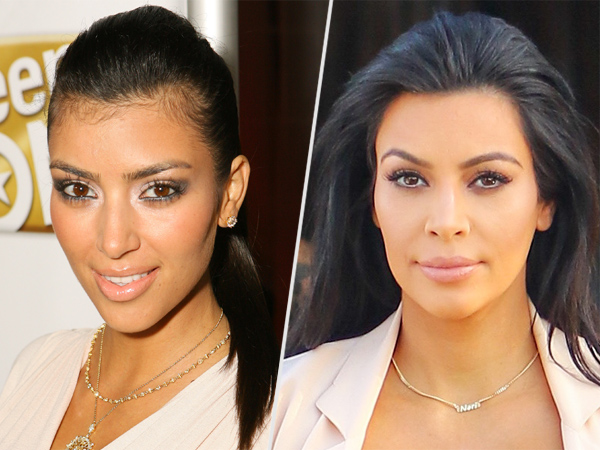 Looking back at photos of
Kim Kardashian
during her days as Paris Hilton's sidekick is basically the equivalent to looking back at her baby photos — her appearance has changed drastically over the years. But one of the most talked about changes that has taken place on her road to Mrs. West? Every rogue hair has simply vanished from her face
and neck — and she wants you to know that life isn't necessarily better without them.
"I lasered my baby hairs off years ago, because my forehead had all these little baby hairs, and I would always break out because of them," the star wrote in a
post on her website
.
But with her dermatologists on speed dial, her hairline certainly wasn't the only thing she altered. "I also lasered my neck because I had such a hairy neck," she adds, noting that her unwanted strands would have been removed digitally anyway. "Every photographer would photoshop them out anyway, and I thought I looked better without the baby hairs, but now I miss them. I think they look youthful!"
Life wasn't always so easy and hair free for the star, who used to go alternative removal methods pre-laser.
She
told PEOPLE
of her furry face dilemma, "I have the hairiest forehead you could ever imagine, and I would always break out and get all cracky on my forehead just from all the hair that I had," adding, "So in high school, I would wax it off because there was just so much hair, and then I would laser it off a little bit. If you Google 2008 or 2007, I had the craziest, hairiest hairline, so I did laser it."
And she didn't draw the line from the neck up —
Kardashian told Allure
in 2010 that aside from her head, there's not a single hair on her body. "I am Armenian, so of course I am obsessed with laser hair removal!" she said. "Arms, bikini, legs, underarms… my entire body is hairless."
Thinking about taking the hair removal plunge? Heed Kardashian's warning before you do: "So ladies, you can always laser your hairline, but I miss mine."
What do you think of her extreme hair removal? Sound off below!