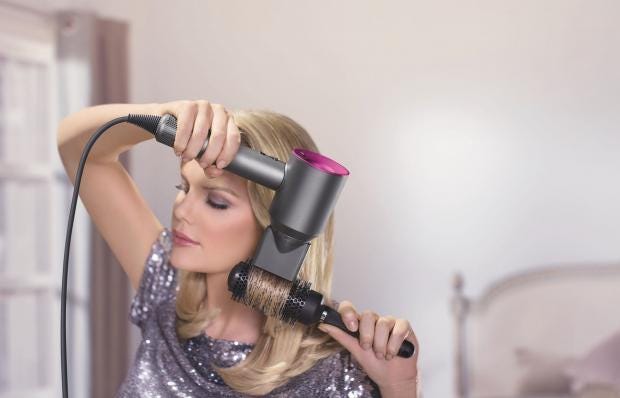 Dyson
has released its latest product: a hair dryer.
The company best known for vacuums and then fans has turned that same technology onto people's heads, releasing a new hair dryer that looks a little like its bladeless fan heaters.
As with many of Dyson's products, customers will have to pay up for the hair dryer's
striking design. It will cost £299 when it launches in the UK later this year – twice that of salon-grade hair dryers from competing companies.
The new Supersonic looks like a long stick with a tiny version of those fans at the top. That means that it avoids the usual gun-like design of other hair dryers, instead going straight up – and, according to Dyson, being much easier to control.
It says that the relatively expensive piece of kit will allow people to dry their hair more comfortably and with more control, and also avoid problems with previous technology like overheating and the problem of getting hair trapped in them.
"Hair dryers can be heavy, inefficient and make a racket," said James Dyson, the company's founder. "By looking at them further we realised that they can also cause extreme heat damage to hair.
"I challenged Dyson engineers to really understand the science of hair and develop our version of a hair dryer, which we think solves these problems."